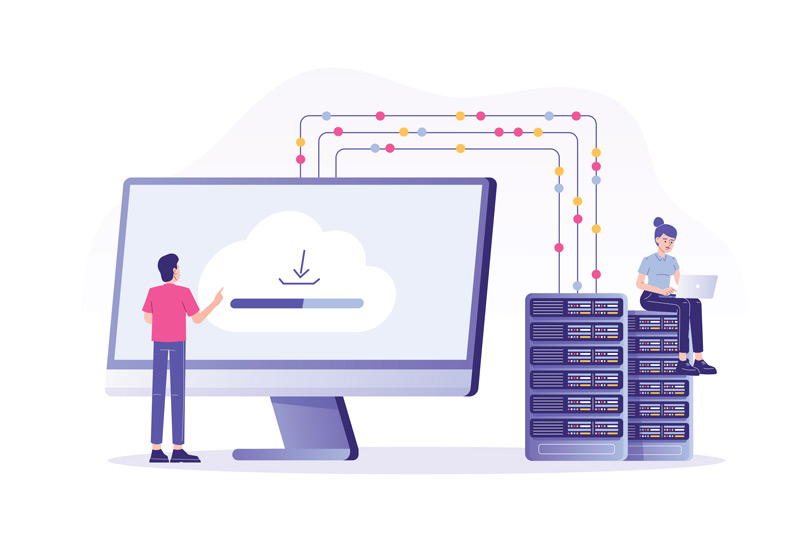 8 Features of The Best Canadian Web Hosting Companies
Having a website is no longer optional.
Of course, choosing to invest in one is still up to you. But if a searchable online platform is your intent, a website is the obvious choice.
A website is crucial in attracting new customers and retaining existing ones. As the central hub of your business, it can help you:
Appear more professional,
Share your company's story,
Align your brand efforts,
Increase brand awareness,
Widen the reach of your company's content,
Serve your customers better,
Increase revenue,
Attract local leads, etc.
But you'll need a good website and web host provider for all these incredible benefits to come true.
Your web hosting provider determines your website's performance. So be sure to choose a company you trust.
This article explores 8 key features of the best Canadian web hosting companies.
If you're searching for a hosting provider for your website, consider these factors first!
1. Speed
Site speed, or load time, is one of the vital components of a successful website.
When a visitor lands on your site, you have under two seconds for your page to load. Any more than that, you risk a higher bounce rate or lower SERP (search engine results page) ranking.
Why is this?
If a searcher navigates away from your site quickly, Google's algorithm takes this as a signal. It could mean the visitor didn't find what they were looking for or it was uninteresting.
If this happens often, Google could rank your site lower on the results page.
Another reason site speed affects your site's success is your searcher's expectations.
People's attention spans have drastically decreased. At the same time, their expectations for immediate gratification have increased.
According to a study by Neil Patel, "47% of consumers expect a web page to load in 2 seconds or less".
The study also states that "40% of people abandon a website that takes more than 3 seconds to load".
In other words, the world is in a hurry.
If you slow it down, you lose the game!
After all, the purpose of the Internet is to provide instant information. If that information doesn't immediately load on one site, there's a high chance that it will on another site.
Increasing your site speed can help keep people on your site longer.
That's why this is one of the most crucial factors to consider when searching for a web host provider!
A good hosting provider ensures a competitive site sped across all your pages.
2. Support
A built-in customer support system in your hosting package is a necessity.
You never know when a problem will arise or how serious it will be. It could be a minor technical glitch or a more complicated programming issue.
Reliable customer support means that there's already a team working on a solution.
This ensures your site's problems receive faster and more effective solutions. This, in turn, increases site uptime and reliability.
There are many different forms of customer support, including:
Knowledge Database and Tutorials
Live Customer Support (via phone or chat)
24/7 Monitoring
24/7 Ticket Systems
What matters most is that your support team is knowledgeable and timely.
3. Security
Strong security is a must for any website. But it is even more crucial if your site collects and/or stores personal data.
Secure web hosting protects your site from cyber threats and ensures your servers run 24/7.
Benefits of Web Hosting Security:
Protects secure information,
Backs up your data,
Detects/Removes malware,
Monitors networks,
Protects hardware,
Prevents cyberattacks, etc.
4. Storage Space
Storage space, or disk space, refers to how much content your site can hold.
Storage space holds both public and behind-the-scenes data.
Examples of public information:
Logos,
Images,
Blog content, etc.
Examples of behind-the-scenes information:
PHP
CSS
JavaScript files, etc.
When choosing and setting up your hosting provider, be sure you have enough storage space. It should be enough to hold both current and new content - so make sure you have lots of space to work with!
5. Bandwidth
Is it your intent to grow your online audience, increase web traffic and up your sales? If so, then invest in a hosting company with higher bandwidth.
The more bandwidth your site has, the faster it can deliver content during peak traffic times.
This ensures each visitor has the same fast browsing experience - regardless of how full your site is!
6. General Maintenance and Upkeep
Most hosting companies offer maintenance and upkeep as part of their hosting package.
This includes routine maintenance like renewing your domain name, SSL certificate and hosting. It also includes things like CMS updates, security patches and system updates.
Your hosting provider should always perform proactive maintenance and updates. This ensures your website operates effectively and efficiently.
7. E-Commerce Options
Do you plan to offer online shopping on your website? If so, you'll need to find a hosting provider that offers e-commerce.
E-commerce, or "electronic commerce", is a method of buying and selling on the Internet. Many hosting providers offer this design and functionality feature alongside a web design package.
What does an E-commerce set-up include?
Shopping cart
Payment Gateway
Product Display
Shipping Gateway
8. Email Options
As you're searching for a web host provider, look for one that offers email hosting for your website's primary email.
This professional email hosting service links your website domain with your email address. This reinforces the connection between your website and email.
This results in a more professional and trustworthy means of communication.
Benefits of linking your site domain with your email:
Increases customer engagement
Improves credibility
Increases trust
Enhances professionalism
Supports digital identity
OSM: One of The Best Canadian Web Hosting Providers
Looking for a local and reliable web hosting provider in Ontario? You've found it!
Our OSM team has offered web design, management and hosting services since 1997.
We feel honoured to work with such incredible companies in our community over the last 25 years.
We've built incredible websites and even more incredible relationships over the years. And we look forward to continuing to support our local businesses in Ontario for many years to come!
OUR WEB HOSTING PACKAGES AT OSM:
TOP 6 BENEFITS OF OUR WEB HOSTING SERVICES:
We update our servers regularly for improved performance and security.
Our servers offer optimized security reinforcement with Firewalls and Mod Security rules.
We monitor each server's install base and usage closely - adjusting as needed to ensure top site speed.
Our servers are constantly monitored via sonar monitoring. If any service fails to respond to a sonar check, our on-site, 24/7 support staff are immediately notified. While problems are extremely rare, this monitoring minimizes any potential downtime. It is how we guarantee 99.9% Network Uptime!
We secure each of our websites with TLS 1.2/1.3 connections and basic SSL certificates.
Genuine human support by ticket, email, phone and online documentation.
To learn more about our hosting services, call (613) 969-2626 or visit us online.